Programme
Scandinavian Rail Optimisation will assess the progress of the region's use of the Internet of Things to date, the level of its capabilities, the practical steps on how to fully harness its growth, and how to mitigate the likely challenges to implementation.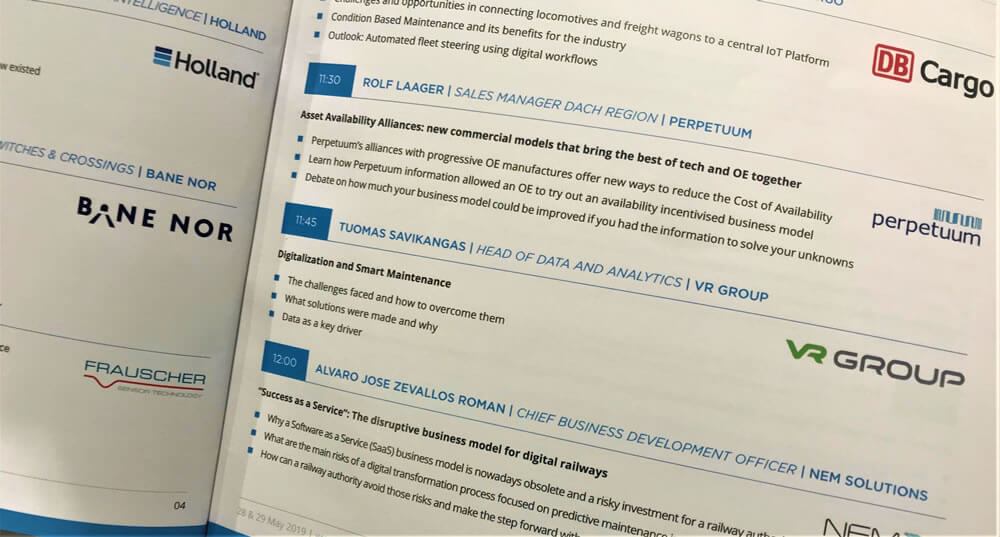 Registration and Welcome Refreshments in the Exhibition Area
Ben Holliday | Managing Director | Rotaia Media
Organisor and Chairman's Welcome
Investments & Objectives for the region
Camilla Ahston | Senior International Strategist | Trafikverket
Business opportunities with The Swedish Transport Administration
How to become a supplier to Trafikverket
High Speed Rail
Conventional Rail

Ellen Alstrup | Programme Manager – BIM & Asset Management | Banedanmark
20 years of experience in the Danish railway system - always from a management perspective
Programme manager | BIM Infra.dk
Project manager | Conducting study asset structure
PMO | Signalling programme, DSB Future Trains, Punctuality programme
General manager | signalling systems in use

Stefan Kalmund | CEO | Nexxiot
How digital rail solutions can support robust Scandinavian cargo services with an assessment of use cases focusing on:
Weather and topography
Industry types and commercial trends
Geo-politics and supply chain evolution

Claes Lindholtz | Director Business Development and Digital Transformation | SJ
How do you transform a 160 year old railway company to becoming Sweden's most digital organisation
How do you drive a transformation to create long lasting value
How to utilise emerging technology to speed up your transformation
How to get employees engaged in digital transformation

Carl Fredrik Karlsen | Commercial Director | CargoNet
Methods of increasing quality and reliability in intermodal train solutions
Proactive maintenance
Digitalization of fleet management
Information sharing

Kaspars Briskens | Head of Strategy & Development | Rail Baltica
Using a greenfield megaproject opportunity to promote transport and digital infrastructure synergies.
Intelligent infrastructure design enabling life-cycle cost savings and optimum functionalities
Local, regional and European benefits of digitalised mobility and connectivity
Nordic-Baltic stakeholder cooperation as basis for collaborative innovation & digitalisation

Morning Refreshments in the Networking & Exhibition Area
Carlo Borghini | Executive Director | Shift2Rail
Shift2Rail delivers the capabilities to bring about sustainable, cost-efficient, high-performing, time driven, digital and competitive customer-driven railways for Europe
The key challenges for railway sector in Europe
The railway innovation capabilities
S2R mission and vision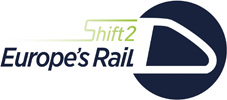 Desai Deep | COO | Sensonic
Quantitative DAS enables a quantum leep in continuous track monitoring
Quantitative DAS is the next evolution of distributed wayside sensing
This allows to identify track degradation in a very early stage
Real time data analytics enables comprehensive condition-based monitoring of track infrastructure

Howard Rosen | Chairman | Rail Working Group
The Luxembourg Rail Protocol: playing an important role in the Scandinavian digital rail revolution
Understanding the Protocol
Providing new finance for new technology
URVIS and why it will be a game changer for the industry

Philippe Citroën | Director General | Unife
Digitalisation of the Rail supply industry (RSI)
Definition of a strategy for the RSI
How to build a cooperation between the rail stakeholders?
Which benefit for the final transport user?

Lunch in the Networking & Exhibition Area
Digitalisation & Innovation in Railway Operations
Carit Benike | Head of Information Technology | DB Cargo Scandinavia
Optimisation is the culture of winners
Darwinism in the modern transport sector – walk the talk
Management vs. production: Targets and tools vs. transformation and teams
IT facilitating change: Building acceptance, respect, trust between railway opportunities and traditions

Javier de la Cruz | Managing Director | CAF Rail Digital Services
LeadMind: Making Use Of Data For Improved Decision Making both for operators and maintainers. Improving availability and reliability while reducing LCC
Digitalisation of Rolling Stock Maintenance: Integrating LeadMind with CMMS.
Real Time and Advanced Analytics: Two streams of data for different business cases.
Digital Transformation: Different functionalities adapted for different roles.

Geir Arild Engh-Hellesvik | Chief Information Security Officer | Vy Group
Building trust and delivering resilience
Trust in digital customer services post GDPR
Building resilience in IT / OT systems
Future challenges for railway operator companies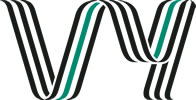 Per Jernström | Data Scientist | VR Group
Advanced optimisation and data driven growth in passenger traffic
Optimisation and forecasting use cases
Democratisation of data to the business
ROI of a data and analytics functionality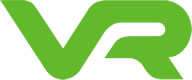 David Dorval | Founder & CEO | STIMIO
How IoT and Digital Twins reshuffles Railways Maintenance Approach
From local measurements to global behavior modeling
Lightweight data driven approach for a rapid ROI
From early experiments to massive deployments

Aske Mastrup Wieth-Knudsen | Vice president, Cooperate Responsibility | DSB
DSB´s Sustainable Digital Sales Channels
DSB´s journey towards the implementation of the sustainable digital sales channels
Sustainability in the Danish journey planner
Future ideas for improving sustainability in the sales channels

Victor Martinez | Rail CoMo & Digitalization Global Center Director | SKF Group
On-board IoT solutions applied for reliable maintenance extension of safety critical railway wheel-set
Railway industry is facing challenges to increase traffic capacity while reducing maintenance cost and increase service reliability
Bogies maintenance represents high percentage of the train life cycle cost and wheels life have been considerably extended during last years
Wheel-set bearings are safety critical components with fixed maintenance intervals, are becoming the limiting factor for wheel-set and bogie overhaul maintenance extension

Rail Operators Panel Discussion
What can be achieved from digitising my railway operations?
As the demand for the modal shift from road to rail increases, what are your challenges in supporting future growth?
Are long standing, traditional standards and rules preventing, or at least slowing down Railways of maximising the full potential of new digital technologies which the industry has to offer?
How are you optimising digital solutions to obtain smart data to increase the efficiency and services of your operations?
Panellists
Claes Lindholtz | Director Business Development and Digital Transformation | SJ
Per Jernström | Data Scientist | VR Group
Carit Benike | Head of Information Technology | DB Cargo Scandinavia
Geir Arild Engh-Hellesvik | Chief Information Security Officer | Vy Group
Christophe Guionet | Director of Rail Development | Traxens
Stefan Kalmund | CEO | Nexxiot
Afternoon Refreshments in the Networking & Exhibition Area
Digitalisation & Innovation in rail Infrastructure
Juha Lehtola | Project Manager, Digirail | Vayla
Finnish strategy for Railway infrastructure development and digitalisation.
National transport system plan – Finnish 12 year program for traffic infrastructure development
Digirail – Finnish strategy for railway digitalisation
ETCS over IP-based commercial radio network

Jonas Wåhlander | Nordic Sales | OSIsoft
Best Practices for Deploying Actionable Decision Systems
Attributes of self-serve actionable data for stakeholders
Supporting advanced analytics and automation
Integrating resilience to meet organizational challenges with examples

Hamid Zarghampour | Chief Strategist. Connected and Automated Transports | Trafikverket
Transportation in the era of digitalisation- Challenges and Opportunity
Contextualising the impacts from the global economy on the traditional modes of transports
The challenge of sufficient and wisely investments on the further development of the transport systewhich satisfies the needs of the globalised economy
The dilemma of a right proportions of investments on the traditional transportation system, and promoting introduction of new mobility solutions

Flemming Højskov Andersen | Head of Section for Business Development | Banedanmark
Digital initiatives to optimize asset management and maintenance
Initiatives for better information coherence
Progress of the application of digital and prognostic monitoring technologies
Steps towards more data driven asset management

Jørgen Torgersen | Head of Smart Maintenance | BANE Nor
Machine Learning and Advanced Analytics for S&C Asset Management in Bane NOR
Introduction of Switch Margin and why
The multiple use of Slip Clutch Detector
Why Slip Clutch Prediction is difficult but worth it
The app

Infrastructure Manager Panel Discussion
How are you embracing the latest digital technologies to help you achieve a more intelligent infrastructure?
It could be argued that the rail industry is regimented by standards, rather than continuous learning. What do you feel needs to change to harness the latest digital solutions available to enable the rail sector to thrive in the 21st century?
How important is it for Railways to collaborate with solution providers as speed of innovation and systems based on AI are now key requirements in order to solve maintenance problems?
With the numerous digital solutions now available that collect Big Data, what are your challenges in distinguishing between the mass of data which is collected, and smart data that is useful to help you with your maintenance operations?
Panellists
Flemming Højskov Andersen | Head of Section for Business Development | Banedanmark
Hamid Zarghampour | Chief Strategist. Connected and Automated Transports | Trafikverket
Carlo Borghini | Executive Director | Shift2Rail
Jørgen Torgersen| Head of Smart Maintenance | Bane NOR
Kaspars Briskens | Head of Strategy & Development | Rail Baltica
Florian Auer | Director of Technology | Plasser & Theurer
Chairman's Closing Comments